Hi friend,

Last week was a nourishing vacation of golf, beach, and friends. Thank you for the time away and for the welcome you extended to Rev. Jessie Syms last Sunday. I wish I could have seen the Pentecost Play. It sounded wonderful! Our 'Players' do a great job and we do love drama.

Here's a few thoughts that came to mind after I changed my daily routine to include a walk to the beach. I saved this picture for you!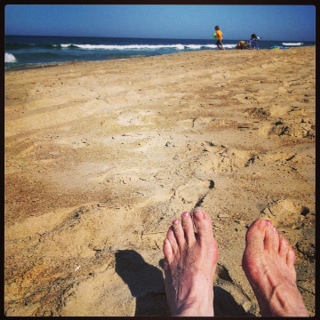 Vacation is a needed part of life. One can only allow the creativity of God's Spirit to enter our lives, when we've cleared out some of the concerns and appointments that fill our days. Nature; whether beach or mountains, the perfect greens of a golf course, even the sand traps and water hazards, seem to offer me a refreshment that I can't find indoors. Now I'm extremely sensitive to mosquitos and other biting insects. (They will ignore you and come to me if we're together.) the month of May in Kitty Hawk was perfect as the bugs were just getting started, the weather alternated between very warm and rather cool, so I could spend as much time outdoors as I wanted to. Even my (golf) drives improved....a little. Mostly I felt rested again. I trust you will find time to get away and get outdoors soon!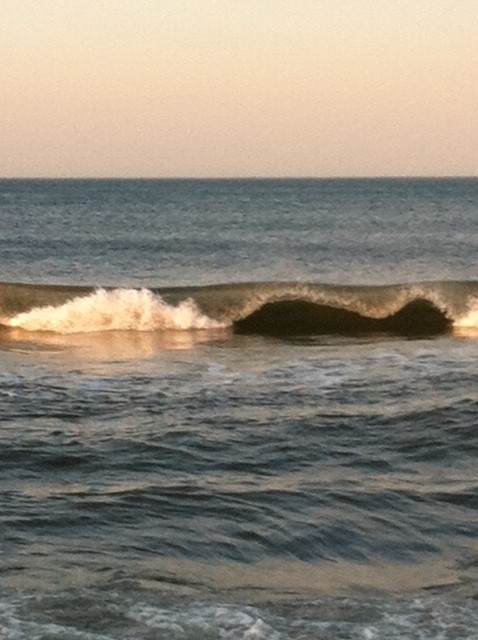 Many of you will take advantage of this holiday weekend to do so. I know these vacations can take you away from morning worship and you ARE MISSED! Yet time away is important for our spiritual growth. Just don't leave God behind when you ditch the world. Grab your Bible or save a favorite psalm to your smart phone. We will be using some visuals to pray Psalm 8 this Sunday, join us if you're away by looking up at the sky and praying, "LORD, our Lord, how majestic is your name throughout the earth!"
If you miss us, you can always catch up here on the web,
Link to our website
We do try to post sermons either written or audio and sometimes both. But they are not quite they same without your input in our new 'Multi-voiced" style - so hurry back!
For those who will be here this weekend,
(Message: Hope in the End
)
the weather will be awesome so perhaps our lunch bunch should eat outdoors!
Meanwhile, we will have a picnic the following week when we celebrate all the ministry that happens in this building. JUNE 2, is our "UNITY WORSHIP" at 11:00 followed by a carry-in picnic of multi-ethnic foods.
This service is fun.
It's not always comfortable
. We don't understand everything that happens in the three languages that are native for our three congregations.
But it is important to be here to remind ourselves that God works in very different ways in a LOT of different places.
The Spirit of God moves in our midst at such times, most powerfully, showing us that we don't need words to worship and we need only smiles to welcome each other.
We are ONE in Christ Jesus
, is a new song we will sing in two of our languages. "Somos uno en Cristo" We trust the Cambodian congregation will be able to sing in English with us as the IRPE and our own Spanish-speaking members sing in Espanol!
Ephesians 4:4-6 undergirds our lives together, don't you agree?
Well those are my thoughts for now. I think I'll post this on my blog and perhaps add to it when I can.
Link to my blog

If you like this kind of note, let me know and I'll write a couple times a month.
Enjoy God's creation until I see you - soon!

Pastor Nancy